Add your Pigment Kit Full Dip a pot 4L Transparent to make unique colors. Access category "pigments" to see all the colors and finishes available.
Mix the contents of each Pigment Kit with 4 liters of Full Dip Transparent to obtain Candy, Pearl, or Single Chameleon Diamon worldwide effect.
4L formats are specially designed for comprehensive color changes, both motorcycles and automobiles. Although the finish is matte you can always give extra shine if you apply after Reforcer Gloss.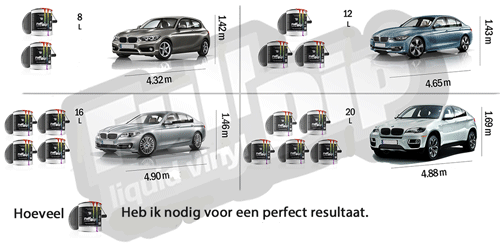 Wraps, protects and changes color with matte finish. It can be removed by pulling it, as if it were a conventional vinyl. 
Our long research process makes us pioneers in the liquid vinyl. 
Full Dip in 4L format, prediluted and ready to apply. For the correct application is necessary to have a paint gun. 
How Full Dip 4L need to paint my car? Depends on the size and the base color, but we can generalize as follows: For small cars two bottles for compact three or four bottles based on size (usually 3), and  to large sedans five.
Full Dip the first manufacturer of liquid vinyl designed in Spain.
Properties                          
Liquid Vinyl application means spray that once dry becomes a tough elastic and durable film.
It can be easily removed.
Fulldip can be cleaned with most soaps, and resists water, mud or pressure water Cleaning.
No cracks or peels off with the time.
See our instalation guide.